It is that time of the year again. Heading into autumn in the Alberni Valley means our annual partnership with the Port Alberni Shoppers Drugmart on 10th Avenue is underway!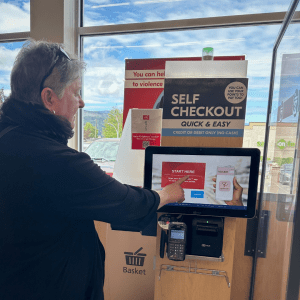 The Shoppers Foundation for Women's HealthTM Giving Shelter campaign looks a bit different this year. Supporters will see some changes when checking out their purchases at Shoppers Drugmart between September 9 – October 6, 2023. The Tree of Life has been updated to incorporate a new look and Customers can purchase the new hand cards in increments from $2 through $20 that can be personalized with their name, business name, or that of a loved one.
If you like the convenience of self-checkout, you will find information about the campaign at each self-checkout as well. Start your purchase and you will be prompted to consider donating to the Shoppers Foundation for Women's Health™ Giving Shelter fundraising campaign with 100% of profits being donated directly to Sage Haven Society (formally ACAWS.)
Sage Haven Society Executive Director, Ellen Frood, stopped in and made a donation through self check out to see just how easy it is before meeting with our local Shoppers Drug Mart store owner Bijan Mahmoudi for their annual visit and challenge to one another to make their individual donations. If tax receipts are needed, supporters can make their donation online at
The campaign kicked off on Saturday, September 9, 2023, with an event taking place in the beauty department of Shoppers Drug Mart offering free makeovers and draws while sharing information about the campaign and goals. We invite local businesses and individuals to challenge one another to participate and get their names up on the window before October 6!